A few weeks ago, we spoke to the co-founder and CEO of Centbee, Lorien Gamaroff, about a range of new services that are now available on the wallet, allowing users to buy utilities and other products directly from well-known providers using Bitcoin SV.
On this week's CoinGeek Conversation podcast, we're showing a live demo of exactly that from the same recording session: how to buy prepaid mobile airtime using Centbee. Lorien is joined by Centbee marketing consultant Heidi Patmore, who has a personal example of just how useful the new services can be.
Heidi explains that in South Africa, where Centbee is based, if you need to top up your prepaid electricity credit, it's usually a question of using a banking app or visiting a local shop and paying at the till, in return for which, you'll be given a code to enter into your electricity meter at home, to prove that you now have credit.
So what happens if your banking app doesn't work? That's what Heidi discovered one evening:
"A couple of nights ago my banking app went down. Now that's the only way I usually buy electricity. And there was a bug at FNB [a big South African bank]. Everything went down, and my electricity started beeping at half past nine at night."
Thanks to the new serviceson Centbee, Heidi was able to prepay for her electricity with BSV. "Thanks Lorien for building that because I was able to top up my electricity! Otherwise I would have had to get in my car and drive somewhere at half past nine at night to try and somehow figure out how to buy electricity."
Heidi predicts this will be a game-changer for Centbee, and for BSV: "the convenience of this is going to be massive. People are going to start doing this. We're going to shift consumer behaviour by having brought out this product."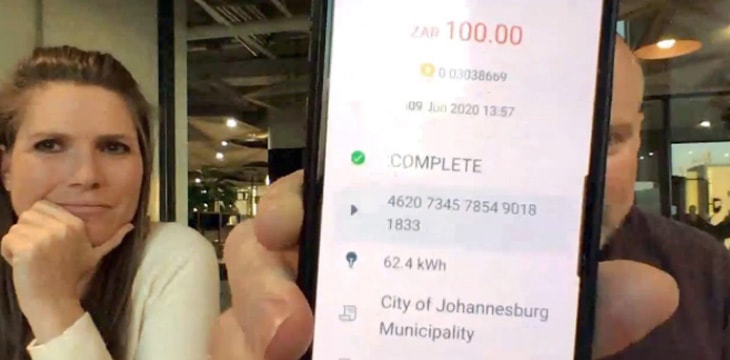 Lorien is confident that electricity is just one example of what users want: "there's a big market for electricity, but there's also a big market for people like teenagers, for example, who right now, if they want to use Uber or they want to have a PlayStation subscription or something like that …they have to go to their parents or whoever and get that transaction made. But I have noticed with my own son that he now has the ability to not only top up his data on his phone, but also to have a PlayStation subscription or or get an Uber ride without having to now phone me up and ask".
It's a big step towards the much-discussed use of Bitcoin to serve the "unbanked", as Lorien explained: "I think that this is going to open up a market that hasn't been accessible before. And I think that there will now be users that come on board. There's no statistics around those types of users, because they've always just been not part of the system. Now there's a digital payment system that they can easily be a part of."
Hear the whole of Heidi Patmore and Lorien Gamaroff's interview in this week's CoinGeek Conversation podcast:
You can also watch the podcast video on YouTube.